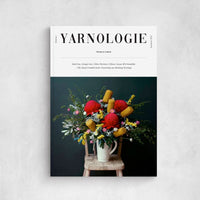 Description
Welcome to Yarnologie – an Australian-based magazine designed to inspire, empower and encourage fellow yarn crafters to try new things, share their creations and just enjoy the goodness of making with yarn.
Yarnologie is about sharing the stories of the people who grow, make and create with beautiful yarn, with an emphasis on natural fibres and sustainable practices.
Yarnologie has always been about supporting their local yarn industry, giving a voice to Australia and New Zealand and tying in with their unique southern hemisphere seasons.
From fibre growers to mills, designers and makers – it's been an honour and a delight to share the stories of the people who grow, make and create with yarn.
Alongside our interviews and stories, Yarnologie includes articles that educate (such as our popular Know Your Yarn series) and tutorials for both knitting and crochet.
Each issue also includes a How-To tutorial covering everything from complicated stitches to measuring your work with a gauge ruler; a delicious recipe and our popular What's On section featuring events, markets, workshops & more.