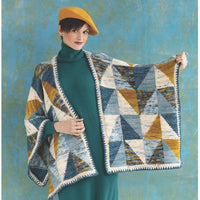 Vogue Knitting Scalene Poncho Yarn Pack
Description
Vogue Knitting Winter 2020
#4 Scalene Poncho by Amy Gunderson
Pattern available in Vogue Knitting Winter 2020
Finished measurements:
Width: 46"
Length: 23 1/4"
Intarsia triangles in a variegated palette may induce a starry-eyed effect; don't forget to wind your bobbins.
Ruana worked in graphic triangular pattern with seed stitch edges.
Colors used are #C882B (White with speckles) (A), #C454 (light blue with speckles) (B), #C3016 (medium blue) (C), #C492 (blue/ brown multi) (D), #C2335 (yellow) (E), #C5513 (dark blue) (F).
***PATTERN NOT INCLUDED IN YARN PACK***