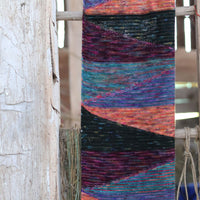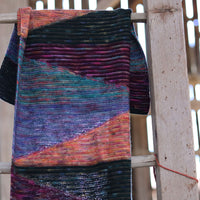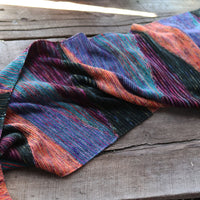 TRI-SHAWL BY:MICHAELA COURTNEY
Description
TRI-SHAWL BY:MICHAELA COURTNEY
This shawl utilizes short rows to create a repeating triangle pattern. The interchanging skeins gives depth to the variegated colours as each skein is alternated every 2 rows. The dense fabric created with this yarn makes for a piece with excellent drape that can be worn as a wrap, or an oversized scarf.
Gauge
4"=29 sts X 48 rows
Finished Dimensions
17" X 52.5"
Special Techniques
Wrap & turn short rows (w&t):
With the yarn in back, slip the next stitch purlwise. Bring the yarn between the needles to the front. Slip the same stitch from the right hand needle back to the left hand needle.
When working wrap & turn short rows in garter stitch, the next row will be knit as normal without picking up the wrapped stitches.
Notes
Slip all sl sts purlwise with the yarn in front.
After working each triangle, trim previous two yarn colours leaving a 3" tail to weave in later.
Materials
10 (870 yards/800m) skeins Koigu KPPPM Pencil yarn - 100% Merino Wool
Size US 3 (3.25 mm) straight needles
Tapestry needle
Stitch marker