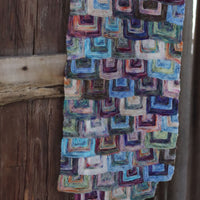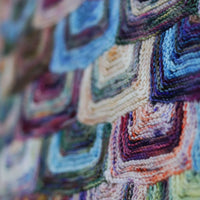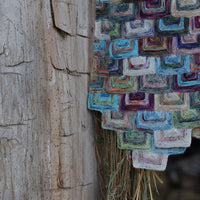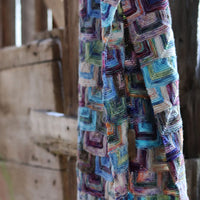 Description
MITERED RECTANGLE SCARF
BY:REBECCA BUSSINEAU
GAUGE
Measurements taken after blocking.
Pattern Stitch, worked flat:
32 sts x ## rows = 4" x 4" (10 x 10 cm)
Finished Measurements
Figures reflect the finished object.
Measurements taken after blocking.
Length: 69" / 175.96 cm
Width: 13" / 32.48 cm
NOTES
This wrap consists of a modular mitered rectangle.
It is knitted in two halves that are then sewn together.
The knitting for each half is the same; however, the Colours are different.
The Colours used are charted out. The first Colour listed in the chart is the main Colour for that rectangle or square, the second Colour listed is the contrast Colour.
For crisp well-defined sts, consider knitting through the back loop.
MATERIALS
20 koigu Painter's Palette Premium Merino pencil yarn; 100% merino, 87yd (80m) per 25 gram
US 2 (2.75mm) circular needles 32" (82 cm) cable length or longer. Note: Adjust needle size in order to obtain gauge.
Stitch Markers
Tapestry Needle.