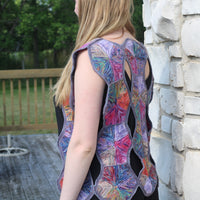 Global Market Vest By Maie Landra
Description
Global Market Vest By Maie Landra
Pencil Box Collection 2.0
Finished Measurements:
Length 24", width 32" (front and back)
Materials:
Koigu KPPPM Pencil Pack Global Market [10 x 25g demi skeins 87yd (80m)] 100% Merino wool,
Koigu KPM 2 skeins 2504, tapestry needle to weave in ends, stitch markers,
3mm / US 3 set of dpn (or size to obtain gauge), 3mm crochet hook.
Gauge:
28 sts = 4" (10cm) using 3mm needles
Notes:
Each hexagon is made up of 6 segments. Each segment is attached by picking up along the edge of the previous segment. The hexagons are attached with a three needle join to create panels. A crochet border is done around each panel and panels are joined at points (see schematic), Colour sequence is random.
Abbreviations: Sl 1 = slip 1 stitch, PM = place marker, SK2P = slip 1 knitwise, knit 2 together, pass slip stitch over;, K = knit, P = purl