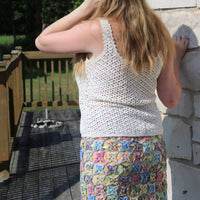 Beach Pencil Skirt By Joanna Clayson (crochet)
Description
Beach Pencil Skirt By Joanna Clayson (crochet)
Pencil Box Collection 2.0
Finished Measurements:
Ladies Medium, 40-42" hip
Materials:
Koigu KPPPM Pencil Box Beach [10 x 25g demi skeins 87yd (80m)] 100% Merino wool, Optional; 1 skein P484 for hemline and waistband.
Size 4mm / US 6 (G) crochet hook, ¾" button, optional fabric ½ yd and ½" elastic to line skirt.
Gauge:
Completed square is 2" x 2"
Notes:
Each square is joined in the corners as you work the project. Ends are worked in as you go.
Rotate colours so not two squares of the same colour are connected.
Hemline may be completed using 1 colourway (P484) or using the remainder of the pencil box.
You may leave unlined as a beach skirt or line with Batik cotton.