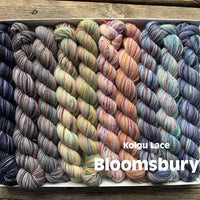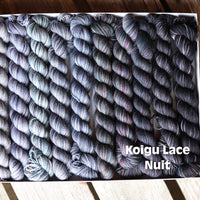 Description
Cottontail Pencil Box features 10 skeins of Koigu Lace Yarn bringing an extra light weight to your ordinary box. 
Koigu Lace Merino is spun from the high quality merino fiber you've come to expect from Koigu wool. This springy 2- ply yarn couples sharp stitch definition with a soft hand and flowing drape. Lace merino is the perfect choice for shawls, scarves and lightweight garments and socks.
Pattern suggestion Cottontail Scarf
10X 25g/146yds/132m = 250g/1460yds/1320m
100% merino

2 - 2.25 mm (0-1 US)

32 - 46 sts over 10cm/ 4"