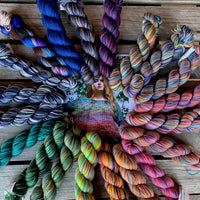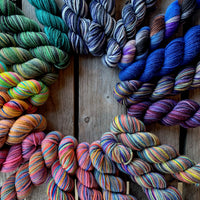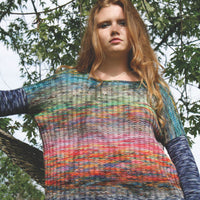 Description
Colourscape Sweater
By Marji La Frenière
KIT includes Yarn and Koigu Magazine 7
Finished Measurements: This is a very oversized, boxy sweater. It should have about 10" of ease. 42 (50, 59)"/ 105 (125, 148) cm circumference. 22"/ 65 cm.
Materials: Kersti Merino, one skein each in 18 colors. Add an extra two skeins in whichever color you choose for sleeves. ; US6/ 4mm circular needles 24"/ 60 cm. Sweater is worked back and forth. 16"/ 40 cm circular for neck.; Stitch Holders
Notes: Choose 18 colors that have something common, but also bring in something new. Place them in order so that they blend from one color into the next. Choose very bright colors like the sample, or very soft colors that are slightly different from one another. Move them around and see what works! Once you have made your color plan, label them in order by number to keep the sequence in order. The sweater starts at the bottom with 1st color and then uses each color in order of lineup. Each 20-row pattern sequence will utilize two colors, and be starting on a 3rd.